We recognize the unique needs and professional hazards of being a health care, helping, healing or social services professional. The Refuge offers focused clinical consulting and training about complex client issues, as well as support for your own self-care to address the impact of compassion fatigue and vicarious trauma.

Case Consultations
Sarah Schlote, MA, RP, CCC, SEP offers clinical case consultations that honour the complex interplay of trauma, attachment and personality dynamics, self states and dissociation, the body, and transference/countertransference, and how to use specific therapeutic and spiritual practices more safely and effectively within your scope of practice with a trauma-informed care lens. Consultations can be offered in person, by phone, or to staff in groups at your agency or organization.
Somatic Experiencing™ Students: Sarah is currently approved as a personal session provider at the beginning, intermediate and advanced levels by the Somatic Experiencing Trauma Institute, for hours towards your SEP certificate. You are welcome to consult with her about your SE clients as well, but these hours will not count towards your SEP certificate at the present time.
Trauma Trainings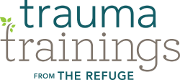 Looking to increase your professional skills, effectiveness, or learn more about specific therapy techniques? Trauma Trainings from The Refuge offers an entire menu of trainings and workshops for therapists, health care providers, mental health professionals, social service professionals, first responders and frontline workers, educators, mindfulness and meditation instructors, and yoga teachers. Presentations range from 60-90 minute fireside chats ('lunch and learn' style), to half-day, full-day and multi-day formats. Standard trainings are available or custom trainings are also possible to be developed based on your organization's unique needs. For more information, visit www.traumatrainings.com

Self-Care Workshops and Retreats
We believe that all wounded healers are deserving of compassionate care and wellness. The very act of serving others can erode our capacity for empathy, trigger our own issues (whether unresolved or previously addressed), shift our worldview, and leave us feeling depleted, impatient, irritable, disillusioned, and less effective in our work. Chronic stress, compassion fatigue, vicarious trauma and burnout are very real occupational hazards that we can help you navigate through integrative, body-oriented psychotherapy, workshops and retreats. For more information, please read more about our Client Services, Therapeutic Approaches or Upcoming Events.